MESSAGE FROM KAREN BURKE
On behalf of the Toronto Mass Choir and York University, welcome to PowerUp Gospel: Back Together Again!  For the 19th year in a row, Toronto Mass Choir (TMC) presents an awesome Gospel music workshop weekend in cooperation with the School of the Arts, Media, Performance and Design at York University from Feb. 23-Feb. 26, 2023. 
Every year, TMC get so excited when it's PowerUp time!  God has placed me in a strategic intersection.  As Chair of the Music Department and the Artistic Director and Co-founder of the Juno-award winning gospel choir, Toronto Mass Choir, I have an awesome view of people interested in choirs and gospel music not only in Canada, but around the world!  PowerUp 2023 is a gathering of people from many walks of life, faith traditions, backgrounds, and musical expertise.  Welcome to the premiere Gospel music workshop experience in Canada! 
This 19th annual event features another stellar line-up of dynamic clinicians and exciting workshops created with you in mind.  This year we have four new clinicians since we last met in person along with many of your favourites returning.  There are several new workshops, our choirs are back (Yay!) and a new focus on solo artistry and hip-hop gospel!  For those registrants who are returning, welcome back!  For those that are new, you are about to embark on an epic journey.  Strap in! 
PowerUp offers over 20 different workshops in several areas of musicianship including many opportunities to develop your singing.  Our PowerUp Youth Choir and PowerUp Chorale are additional ensemble opportunities alongside the larger PowerUp Workshop Mass Choir to which all participants are invited to join.  Come and create singing communities! 
There are many ways to come onto campus, the easiest being the YORK subway station whose exit is only 26 steps away (I counted!) from the Accolade East Building where the conference is being held.  If you are driving in, remember to download the HONK app and use it every time you park to avoid a parking ticket. 
We will kick off the weekend with our first mass choir rehearsal on Thursday night when we welcome our guest clinician for this year, the Grammy Award-winning gospel artist, Myron Butler who will offer workshops over the weekend and be a guest conductor for the mass choir. Please do register and be part of this year's mass choir experience! Everyone is welcome! 
We are looking forward to our finale concert being held on Sunday evening, Feb. 26 featuring all of our ensembles and several special guests.  NOTE:  The PowerUp Workshop Mass Choir is wearing ALL BLACK that night!  Tickets for your friends and family can be purchased on-line through Eventbrite or at the door.
Welcome!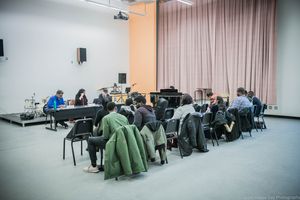 REMEMBERING WHEN WE WERE ONLINE
Over the past two years, the Toronto Mass Choir was excited to offer a hybrid gospel music workshop for vocalists, instrumentalists, and gospel music enthusiasts of all skill levels. Top professionals in gospel music hosted workshops that gave attendees a chance to improve their musicianship, learn about gospel music in a variety of creative settings. Even online, PowerUp 2021 and 2022 were still unique and powerful experiences! 
Through a balanced offering of interactive activities and group coaching, registrants accomplished the following: 
Developed their musical ear and vocal improvisation 
Learned tips and techniques for maintaining vocal health 
Learned the keyboard techniques and chord structures that create that special "gospel sound" 
Learned to 'Play by Ear' on the keyboard 
Engaged in deep conversations with an international group of expert Gospel vocalists and instrumentalists 
…and so much more!
Testimonials from PowerUp 2021& 2022
"That was such a phenomenal experience!! Thank you once again for including me...I learned so much, it was almost overwhelming!!! I absolutely love this event and have gained so much just by being a part of it. Thanks again and congratulations to the entire team on a job very well done!"
- Renee Rowe, Singer/Songwriter, Vocal Coach, 
  "It was awesome!! Bravo on a very successful online PowerUp!! - 
- Dr. Melissa Morgan, Assistant Professor of Choral Music, University of Regina 
  "Thanks again for spearheading this AMAZINGLY ANOINTED EVENT!!!" - 
 - Dr. Beverly Vaughn, Professor of Music, Stockton University, New Jersey 
"I wanted to take this opportunity to say thank you again for the invitation to present at PowerUp 2021. It was truly an honor to present! I also wanted to share with you how beautifully organized the event was!! As a Clinician, I felt taken care of, and was always welcomed into each space with love, kindness, and warmth. This is a true reflection of the heart and excellence that TMC continuously demonstrates. Presenting online in the virtual realm, we can often feel disconnected, but somehow you all made it feel as if we were in a room together, holding each other up as a family. That was truly heartwarming for me"
- Nicole Hamilton- Artistic Director, Inica Dance Industries
"I was fortunate to attend the Power Up Gospel Choir Workshop in 2021.  The on-line experience was phenomenal. The workshops were enlightening,  informative and it was great to experience community within a larger body of singers.  A highlight for me was the panel discussion with the guest speakers. Experiencing their openness, vulnerability and wisdom reminded me of the wealth we have access to.  
Much looking forward to PowerUP 2022." 
- Fredericka Petit-Homme, Montreal QC